SKIATHOS
The Marina occupies the North end of the Skiathos main port. It is right in front of the main street with many cafe's, restaurants, bars etc. nearby. The ride by taxi from the marina to the airport is 5-7 minutes. The ferries and hydrofoil terminal is about 600m away of the marina.
Base manager: Mr. Fragiskos Kydoniefs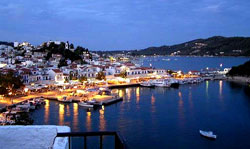 Mobile Tel.:+30 6932415114
Customer service: ATHENS Head Office +30 6944794255
Markoni 49 Agios Dimitrios
Office hours: Monday to Saturday 10.00 to 19.00
email: [email protected]
Technical manager: Mr. Nikos Gyparis
Mobile Tel.:+30 6977 660602
Base address: On arrival please go directly either to our office next to "Cafe Fresh" which is opposite the yachts or directly to the floating pier.
Provisioning:There are two supermarkets within walking distance of the marina. The larger of the two can arrange free delivery to the quay.
Hazards
Beware of ferries and hydrofoils. Do not anchor inside the airport cone (zone). No vessel with height over 4 meters can anchor in the airplanes landing path.
Weather forecast: The prevailing winds in this area are mostly N-NE at Force 2-5, which usually die down during the night.
Hotels-restaurants:There are many quality tavernas, restaurants, cafes and bars located by the sea front, as well as in the center of the village.
Sailing licence: 2 licences (sailing licences for sailing yachts or motor yacht licences) are required
by Greek authorities. As an alternative one licence and one sworn declaration will suffice (see pdf file)
SKIATHOS Health Center
Skiathos 37002,
tel: +30 24270 22222, 22040, 21202 (fax)
e-mail : [email protected]
yacht charter greece skiathos – Map of the base:
Itinerary:
1 WEEK CHARTER
departure/return base: Skiathos, main port
Saturday: Skiathos Marina check-in at 17:00
Sunday: Skopelos island 20 NM
Monday: Linaria (Skiros island) 42 NM
Tuesday: Paignio (Kira Panagia island) 40 NM
Wednesday: Patitiri (Alonissos island) 13 NM
Thursday: Koukounaries (Skiathos island) 25 NM
Friday: Skiathos Marina 6 NM
Saturday: check-out at 9:00
________________________________________________________________________________
Also…
Read abour yacht charter greece here!
Check out our yachts availability here!
Find out more about our yachts here!
Find oout about our prices!
Check out for our special offers!
Read this article about sailing areas!
Read the Frequent Asked Questions here!
Read more stories on our blog!
Contact us for anything you want to ask here!
Learn today: read about the Skyros island
yacht charter greece skiathos – puresailing.gr
Yacht charter from our Skiathos base.
Our team in Skiathos is responsible for giving you an overview of your cruising area, inspecting the yacht for safety, and familiarising you with all aspects of your yacht. Before you leave the base, you will become familiar with:
All of the safety equipment including: fire extinguishers, lifejackets, and first aid kit(s)
Cooking and refrigeration systems
The heads and showers
Engine and regular check procedures
The VHF radio system and proper mayday instructions
All instruments, including the GPS
All necessary charts and pilot books
The halyards, winches, reefing lines and other rigging and controls
The anchoring system(s)
Dinghy and its engine
All other systems particular to that vessel such as air conditioning / generators
All of our yachts meet the highest safety requirements, are very well maintained and undergo regular technical checks.